Elope in Sedona | Everything You Need to Know
If you're an outdoorsy, adventurous couple looking for the perfect place for your Southwest elopement, be sure to add Sedona, Arizona to your list of contenders! Sedona elopement.
At about 4,350′ elevation, Sedona is about 2 hours north of Phoenix and is a hub for hikers, bikers, and explorers who come from afar to experience the magical and mystical red rock formations. There's a little something for everyone in Sedona – great food and drinks, amazing hikes, kayaking, off-roading – so no matter where your adventure brings you on your Sedona elopement day, you'll be sure to have an epic day!
Planning Your Sedona Elopement
One of the greatest things about planning a Sedona elopement is that there are so many breathtaking views that are accessible by easy or moderate hikes. Among these include the infamous Cathedral Rock and Bell Rock which you will see as immediate landmarks when you enter the town limits.
Before you start planning your Sedona elopement location, here's a quick list of things to consider:
Weather / Time of Year
The weather in Sedona is generally dry and sunny, though during the summer months it can get up to 100 degrees. My favorite time of the year to visit Sedona is during the fall and spring months, where the temperatures are more moderate (50's to 70's) and the flowers and trees are starting to pop!
Tourism
Another thing to keep in mind when you are planning your Sedona Elopement is the peak tourism season, which can be tricky to navigate if you want to avoid crowds. Sedona becomes a popular place to visit during school breaks during Thanksgiving, Christmas, or spring break in March and the beginning of April. My tip is to avoid these peak times and plan on going a week or two before or after travel season.
Hiking
Whether you're a seasoned hiker hitting the peaks or you're just a casual walker, it's important to be prepared for whatever adventure you're planning. The first thing to keep in mind is that, because of Sedona's higher elevation, it may take a few days of acclimation to feel ready to hike to your normal comfortability. My advice is to pick a hike that doesn't push you out of your comfort zone, and to allow plenty of extra time in your timeline. You won't want to feel rushed, out of breath, or uncomfortable on your elopement day!
Activities
One of the most exciting parts of your elopement is planning all the fun activities to do together! Whether you'd like to celebrate with a small picnic and champagne at sunset, or perhaps something a little more adventurous (off-roading, kayaking, or maybe a helicopter ride), it's important that you plan your locations around these activities. If you're interested in spending the day on the water, it may be best to plan your activities close to the Verde River or Peck's Lake. If you're looking for an epic sunset, a hike up Cathedral Rock or Merry Go Round Rock will hit the spot.
Guests
Lastly, if you're planning on inviting any guests to your Sedona elopement adventure, it's important to think about how accessible your location will be. If you have avid hikers in your group, it could be fun to include them on the whole journey. Or, if you'd like to have a simple ceremony at an accessible spot with family and friends, you can choose to go on an adventure after your ceremony on your own. Remember, there's no "right" way to elope, so chat with your Sedona elopement photographer about the best way to plan your day so that it fits YOUR vision!
Permits
Obtaining a permit from the Forest Service is often a necessary step for planning your elopement in Sedona – however this will depend on several factors like location, guests, setup, and more. Additionally, there is generally a fee of $50-$150 per day to obtain a permit to photograph within the Coconino National Forest. To get more information on necessary permits for hosting your elopement, you can reach out to the Forest Service or ask your elopement photographer to guide you through the process.
5 Best Places to Plan Your Sedona Elopement
1. Cathedral Rock
Distance: 1.2 miles round-trip
Total Ascent: 700 feet
Difficulty: Moderate
Hiking Time: 1 to 2 hours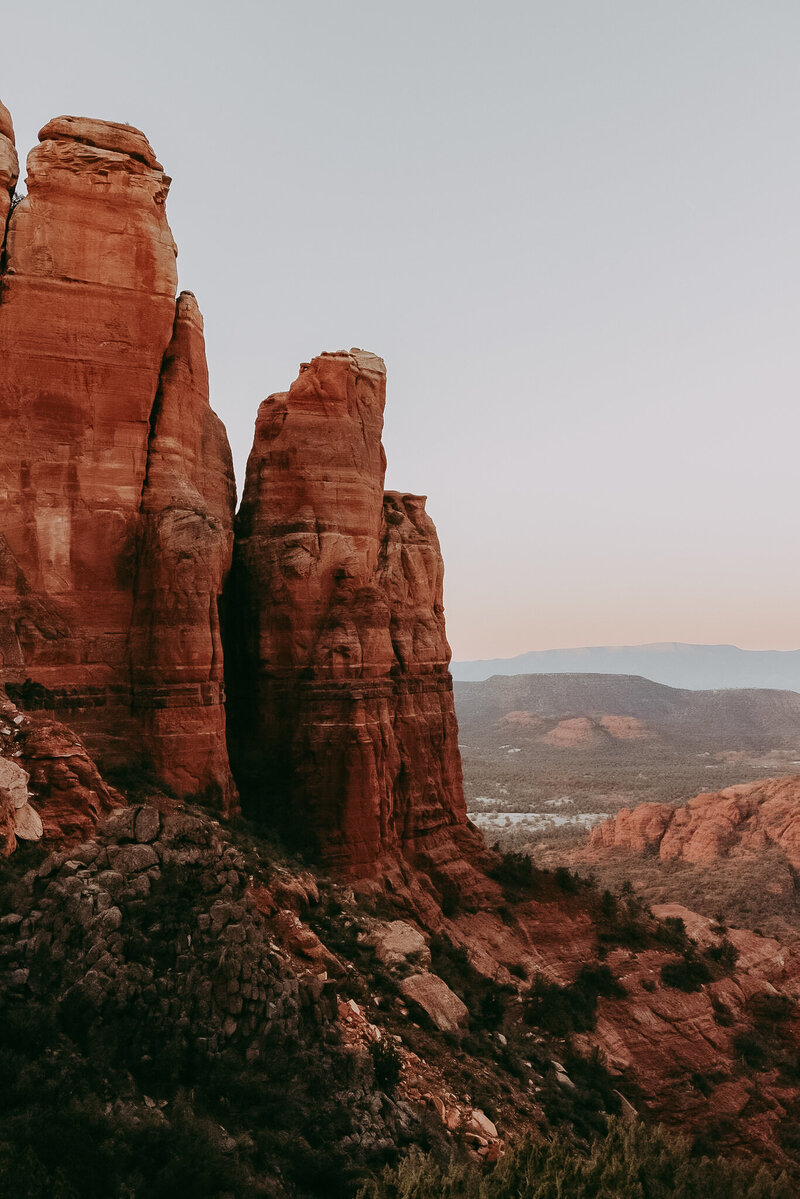 If it's your first time in Sedona, you'll notice signs for Cathedral Rock as you drive up from Phoenix and this is a location that you certainly shouldn't miss! The rock is a natural sandstone butte on the Sedona skyline, and is a short yet moderately difficult hike of 1.2 miles round trip. To reach the top, there are a few steep inclines (you may need to do a little rock scrambling), but the view is well worth it!
Parking at Cathedral Rock Trailhead is limited to two small parking lots, so it may be best to get there early and plan for a sunrise hike since space fills up fast. Another option is to take the Sedona shuttle (it's free!) that drops you right off at the trailhead if you'd like to plan for later in the day. Also keep in mind that this is a widely popular hike and destination, so the trails may be crowded. Planning for early or later in the day will be best to avoid hiker congestion on this trail.
2. Merry Go Round Rock
Distance: 1.4 miles round-trip
Total Ascent: 288 feet
Difficulty: Moderate
Hiking Time: 1 hours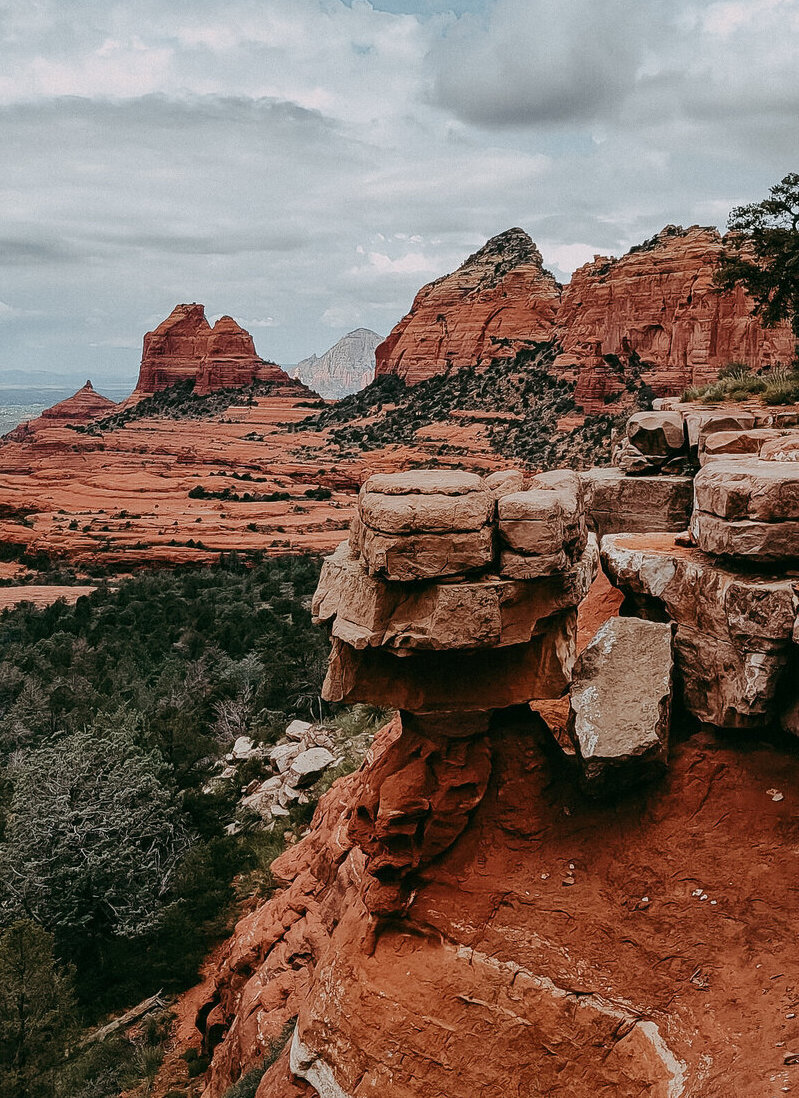 This location is only accessed through a high-clearance vehicle (such as a Jeep rental) or an ATV/UTV, as the trailhead is located about four miles up Schnebly Hill Road. However, once at the start of the trail, there is an easy, 1.2 mile path that circles Merry-Go-Round Rock. This spot easily has one of the best views at sunset, and plenty of space to walk and adventure around the paths for some epic views!
This trail may include some scrambling here and there, but one of the most exciting parts is the rock cave which is totally worth stopping at for some epic photo ops. This hidden gem will be the best part of your Sedona elopement adventure!
3. Secret Slick Rock Trail
Distance: 0.7 miles round-trip
Total Ascent: 78 ft.
Difficulty: Easy
Hiking Time: 20 minutes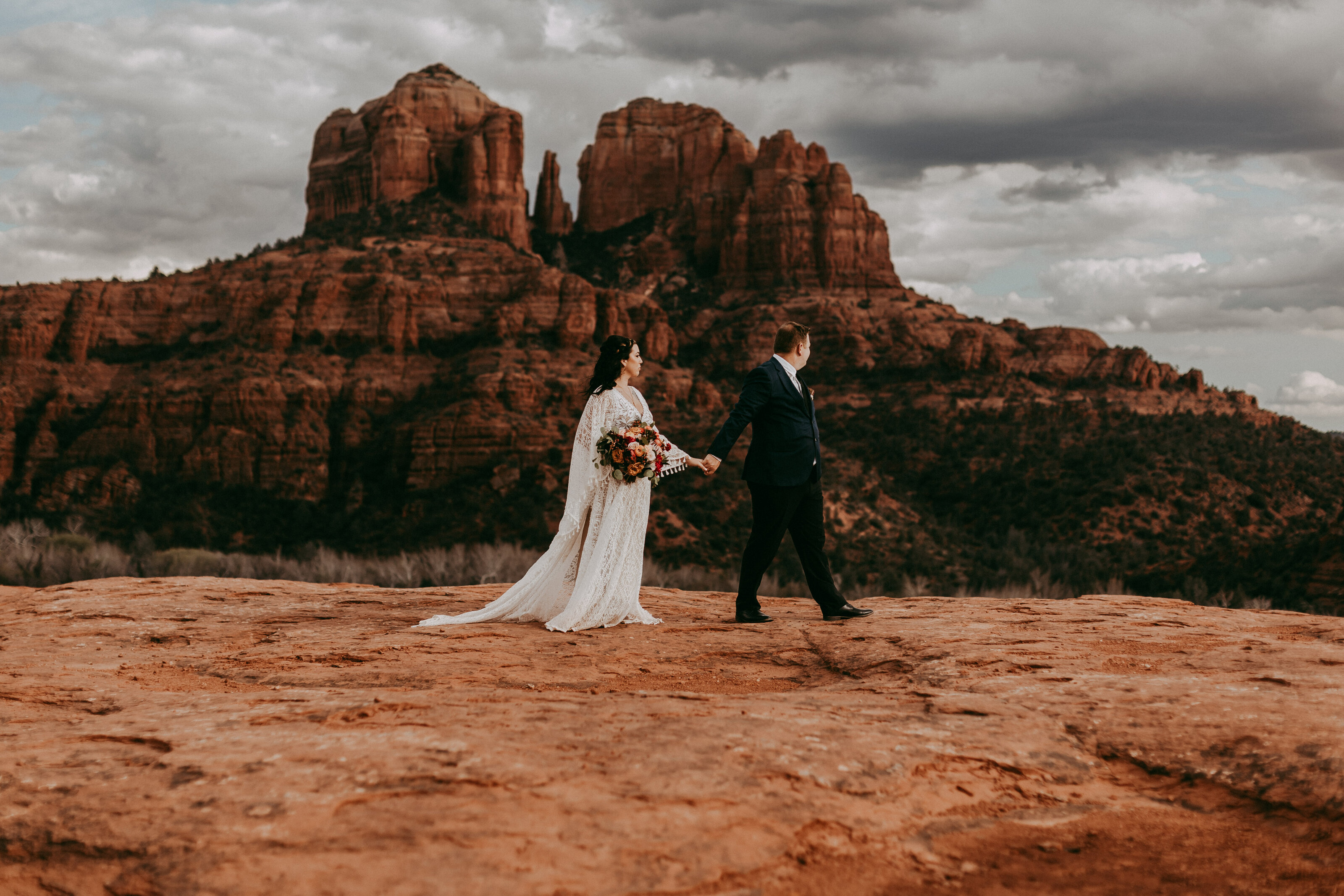 This path is one of the MOST accessible trails in Sedona, with some of the best views of Cathedral Rock. A popular spot for sunset as well – and because it is so easy to get to – it's perfect for a small ceremony if you have a few guests that are not big hikers. This is also a fun spot as a pit-stop on a larger adventure, since it is so accessible and a quick walk! In the spring, the Secret Slick Rock Trail has some beautiful wildflowers that pop up for a few weeks – so if you're planning an April or May Sedona elopement, this could be a beautiful spot to walk together.
4. Bell Rock / Courthouse Butte Loop Trail
Distance: 4 miles
Total Ascent: 400 ft.
Difficulty: Easy
Hiking Time: 1.5 to 2 hours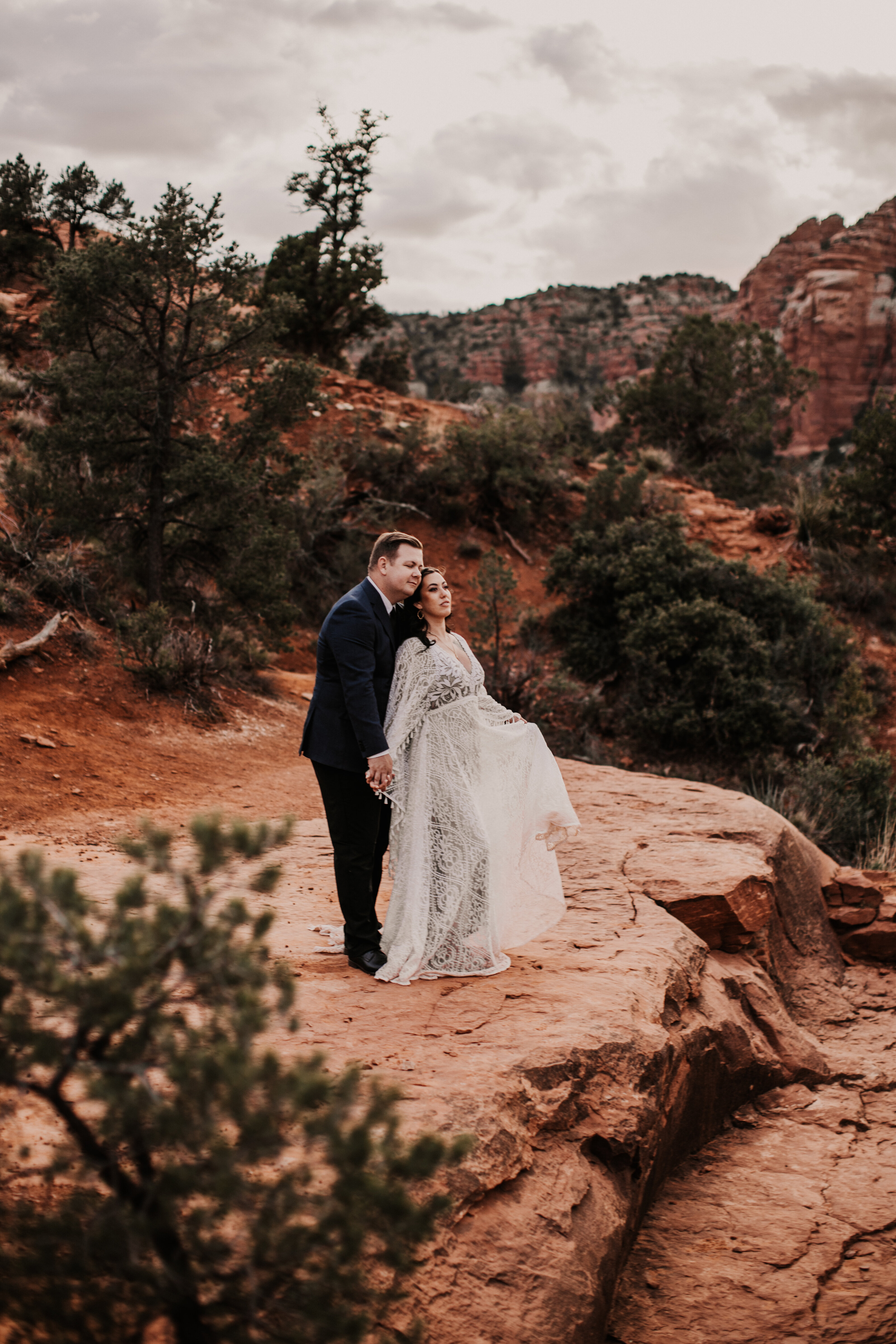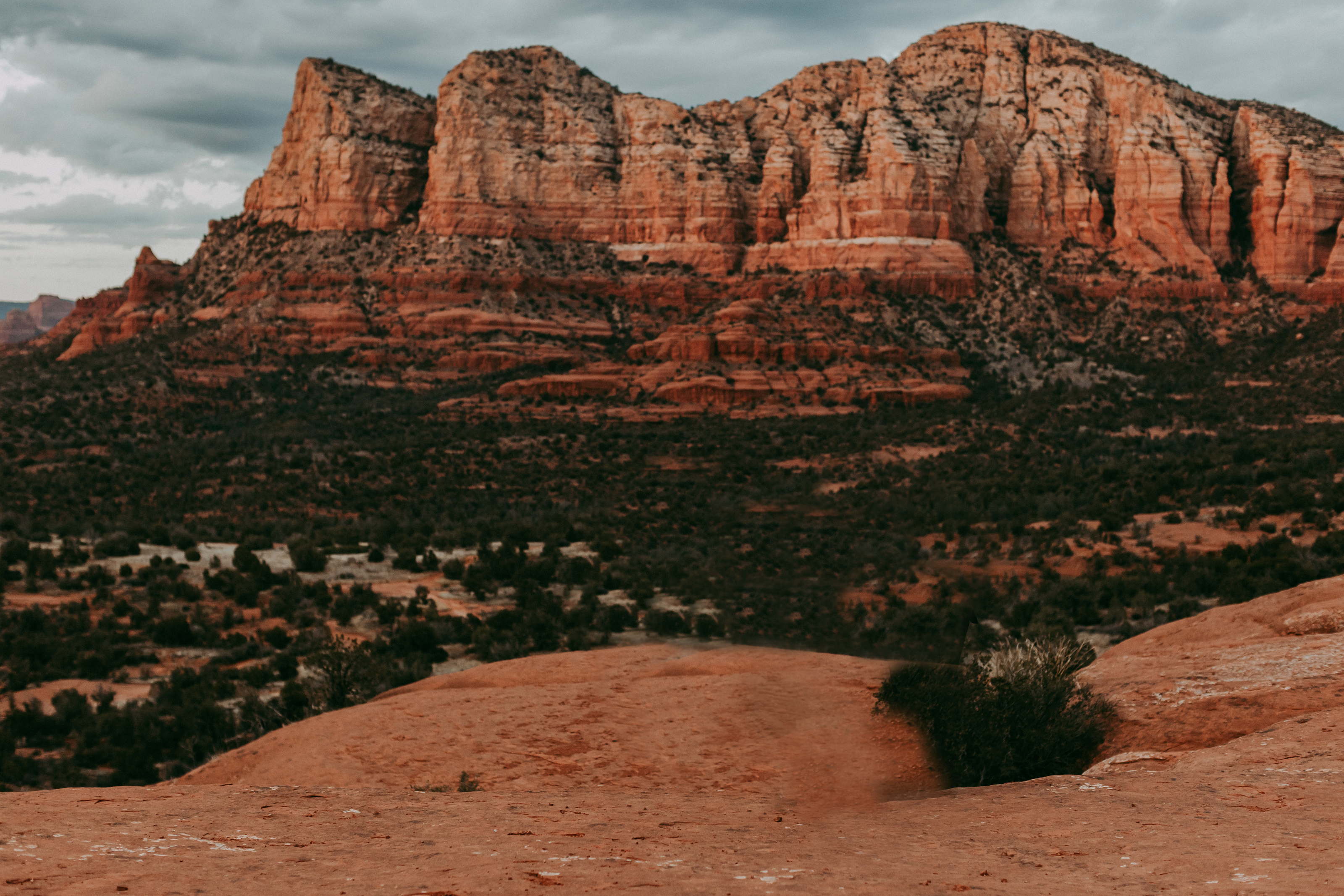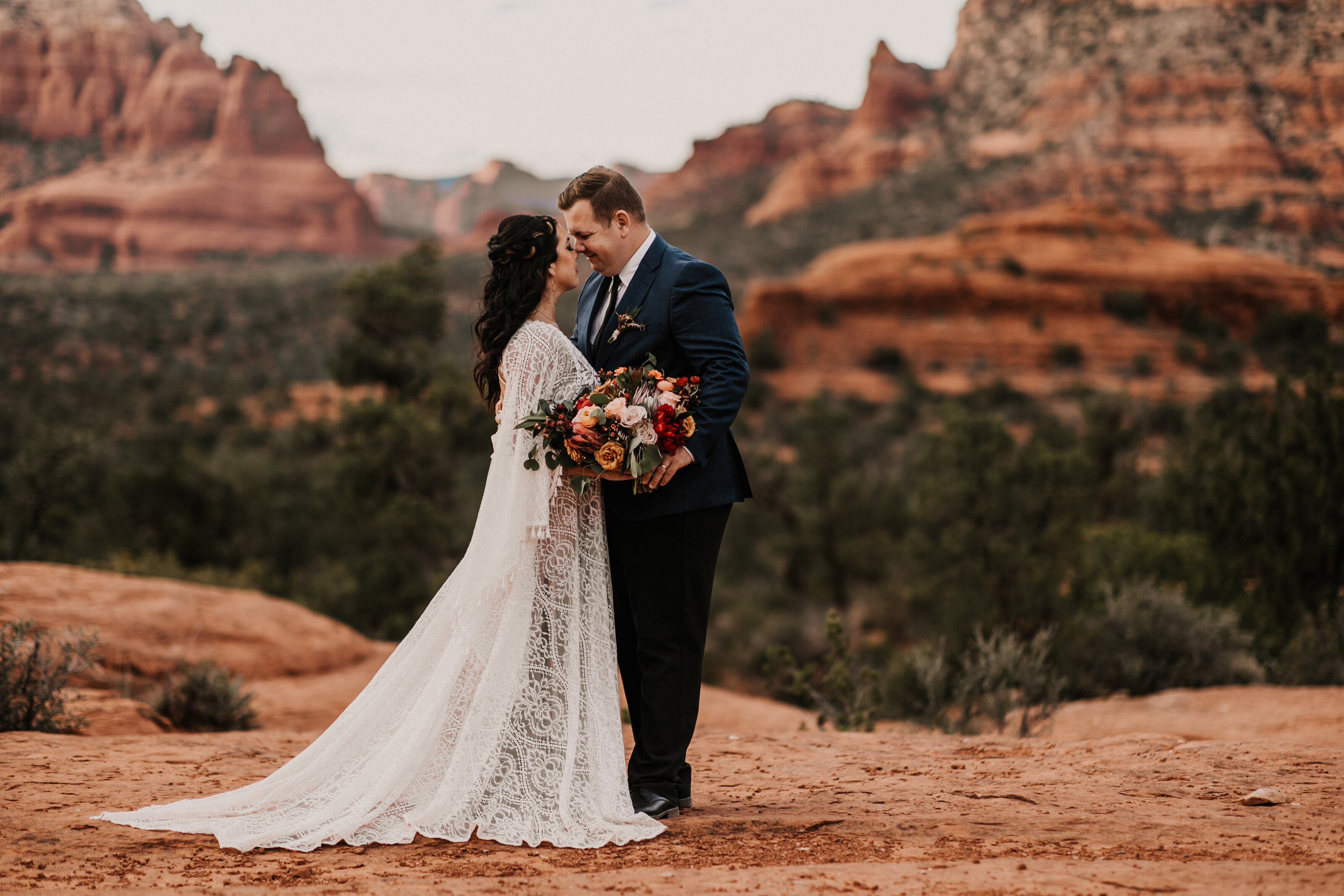 With a summit of almost 5,000 feet, the Bell Rock butte is one of the first red rock formations you'll see as you enter Sedona. There is a four mile trail that goes around the whole rock, but you can also walk up about a half mile from the start of the path to get amazing views.
This is an accessible and popular spot, so keep in mind, parking is limited and the trails may be crowded. If you head to Bell Rock Trailhead North, you can take the short path up to the bottom of Bell Rock for a short trip or head to the trailhead to do the full four mile loop. If you're feeling super adventurous, you can climb to the top of Bell Rock (400 ft ascent), though this may take an hour or two in addition to the loop trail.
5. Soldier Pass Trail / Seven Sacred Pools
Distance: 4 miles
Total Ascent: 839 ft.
Difficulty: Moderate
Hiking Time: 1.5 to 2 hours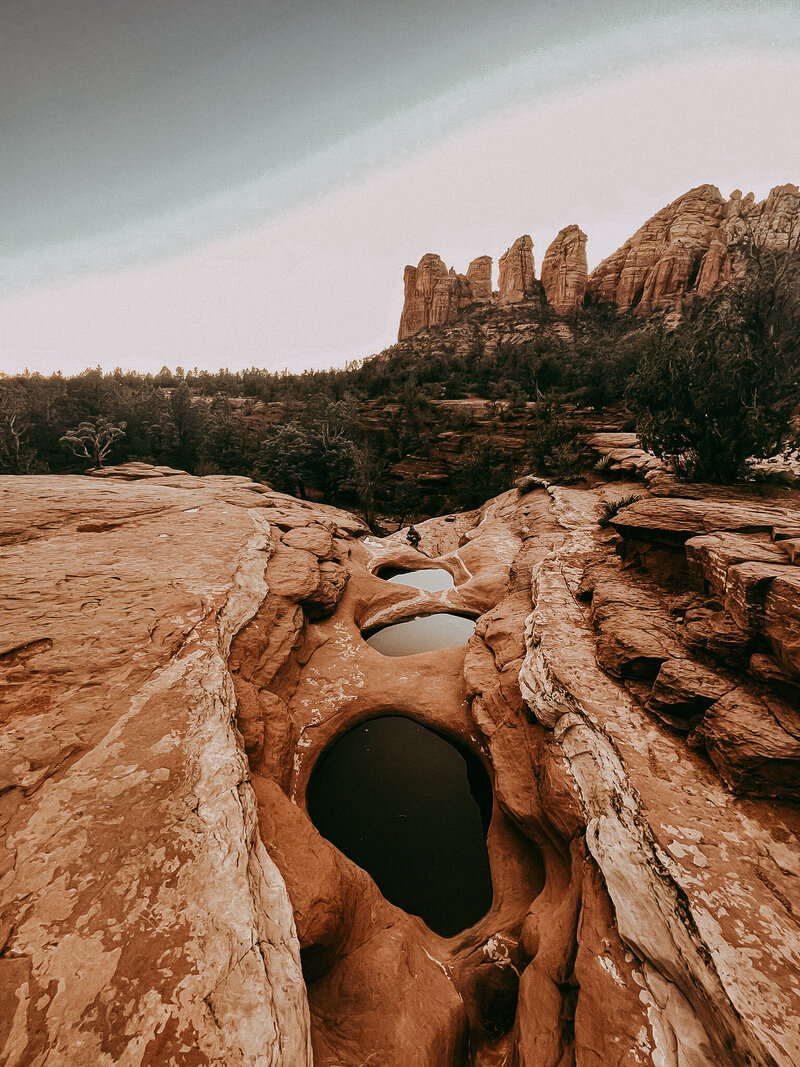 The Soldier Pass trail is a moderately difficult loop trail that is very popular for hiking in Sedona.
This beautiful trail leads to the Seven Sacred Pools that fill with water after rainfall. Continue on the path and you'll come to a short, but steep trail that takes you to Soldier's Arch and Soldier Pass Cave.
Good to know: There is one small parking lot at this trailhead, however, there will be NO PARKING allowed at the lot on Thursday through Sunday during which time the trailhead is only accessible via the Sedona Shuttle service. (Alltrails)
Booking Your Sedona Elopement
So you're ready to take the plunge and plan your Sedona elopement? I am SO pumped for you! Here at Amelia Marie Photography, I work with the most amazing, adventurous, and bad-ass couples who are down to celebrate their love authentically with the most epic day ever.
You don't need to worry about being an elopement expert to start your Sedona elopement planning! Here at Amelia Marie Photography, I am here not only as your experienced Arizona elopement photographer – I'm also a guide to help you scout locations, connect you with an amazing team of elopement vendors, and capture all of the awesome and amazing moments of the day!
Ready to start dreaming up your perfect day? Download the FREE Elopement Planning Guide below to get started!